About us
Help drive the nation's financial wellbeing
At StepChange Debt Charity we have 30 years' experience providing free, impartial debt advice. In 2022, our team of debt advisors helped over 167,351 clients with full debt advice sessions and we saw 25,516 clients become free from problem debt, an increase in comparison to the previous year.
We employ over 1000 people across the UK, and every one of us is doing much more than simply helping our clients look after their finances. By joining us you'll be able to do your bit as well.
Our vision
We want to create a society free from problem debt. Our latest research shows that over 3.3 million people in the UK are in severe problem debt, and the demand for debt advice will rise further with the current cost of living crisis.
Our clients
The most common causes of debt are life events such as bereavement, separation, illness or redundancy. Our colleagues help thousands of people every week from across the UK to deal with their debt problems and get their lives back on track. As a result of their reviews and ratings of our service, we won a Feefo platinum award for constantly delivering excellence and were awarded Debt Advice Provider Of The Year at the 2022 Credit Awards.
We're also thrilled to have won two awards for Debt Advice Provider of the Year and Best Response to the Cost of Living Crisis at the 2023 Credit Strategy Awards. We're hugely proud of our colleagues who have all contributed to this success through their hard work and dedication.
Debt advice
Whether by telephone or online, we work with every client to complete an income and expenditure statement. Using this information, we'll then identify the most appropriate debt solution for each individual.
Each client receives a personalised action plan, offering them access to a broad range of solutions to help them manage their situation and address their debt problem. If we're unable to offer them a debt solution we'll advise them until their situation improves.
Equity release
For clients who are at, or near retirement, StepChange Financial Solutions provides free equity release advice. We're the UK's only charity-operated equity release and mortgage service and can help clients with interest only lifetime mortgages, lifetime mortgages and home reversion plans.
A UK-wide charity
We have a UK wide network of offices in Leeds, Newcastle, Glasgow, Cardiff, Chester and London and offer hybrid working for most of our roles.
Campaigning for change
Our external affairs team in London and Glasgow influence change using our clients' experiences to make the evidence-based case for changing regulation, law and practice, to prevent and reduce the harm that problem debt causes.
Join us
We're growing and expanding our services so that we can help even more people to overcome their money worries in these incredibly challenging times. To do that, we need colleagues for our contact centres and support roles who are passionate and dedicated.
If that sounds like you, and you want to help transform the lives of people struggling with debt and support the nation's financial wellbeing, we'd love to hear from you.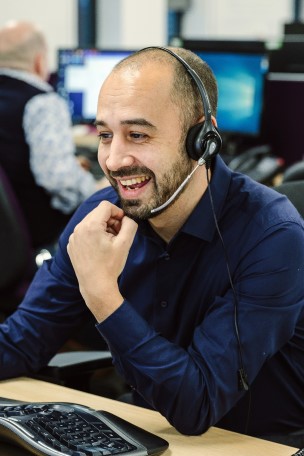 Follow us on social media